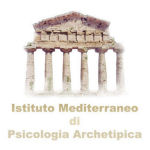 Founded in 2006 by Riccardo Mondo and Luigi Turinese , with the favour of its Honorary President James Hillman, the IMPA Institute aims at conveying archetypal sensibility – traditionally, perquisite of the Mediterranean district – into clinical praxis.

It was founded in Catania,

the ancient Katane of Greek origins. The link to the mediterranean culture is connected with the metaphor of the "return to Greece", which in Hillman's thought means the return to a psychic, rather than geographical region, an inner landscape signifying the imaginal realm where archetypes lie in the shape of Gods.
Central to our job is the Permanent two year training Lab


The IMPA also offers organizational consultation, promotes creative dialogue from a truly trans-disciplinary perspective, organizes conferences and seminars, as well as individual Vs group supervision.

Among the IMPA's chief objectives are to be mentioned the expansion (for professionals) of groundbreaking conversation on trans-disciplinary subjects, according to the guidelines given, over the years, by Crocevia Cultural Association, and focusing in the elaboration and diffusion of C.G. Jung 's and J. Hillman 's thought and concepts outside the consulting room.

Training Activities
The IMPA's activities include a permanent Two year Training Lab , run by Riccardo Mondo and Luigi Turinese , meant to advance the understanding and utility of Jung's and Hillman's archetypal approach in psychotherapy's training and practice.

Themes overview:
Fundamentals of Archetypal Psychology
An archetypal approach to the dream
Times and places in healing
Psychosomatic patterns in clinical practice
The IMPA organizes conferences, seminars and lectures designed to deepen fundamental themes with qualified national and international lecturers.
Supervision activities will be undertaken in order to define the functional setting's essential features, with focus on a clinical approach based on archetypal patterns.
The IMPA also offers organizational consultation on Archetypal Psychology for the development of trans-disciplinary projects , and specific further education programs for professionals from various background.

Versione italiana
■
Pubblicato il 15 agosto 2010, 02:02 da
G. T.
■
Modificato il 17 ottobre 2010, 22:10 da
G. T.
■
Archiviato nella Sezione
English Version